Below is a small sample of the work that we have done over the past 25 years.  Please visit our Instagram page for more photos of recent projects.
All

Acrylic Panel Pergolas

Additional Custom Work

Asian Style Pergolas

Attached Pergolas

Classic Column Pergolas

Commercial Pergolas

Commercial Projects

Contemporary Pergolas

Custom Fencing

Custom Gates

Custom Projects

Custom Treillage

Outdoor Kitchen Pergolas

Pergolas

Post and Bracket Pergolas

Rooftop Pergolas

Shade Pergolas

Sukkah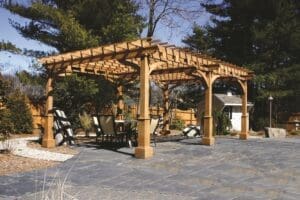 Patio Pergola No. ASP6
A request for a contemporary Asian style pergola resulted in this successful design....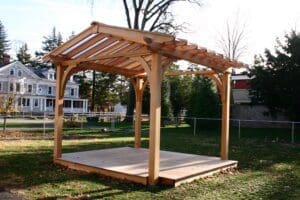 Our customer service department is open from 8:30 am to 5:00 pm, EST, Monday through Friday. If you leave a message after hours please leave a number where you can be reached and we will gladly return your call.
phone: 978.630.8787
email: [email protected]
We are located in E. Templeton, Massachusetts, off of Route 2, one exit west of Gardner, the furniture capital of New England.
main location:
25 North Main St. rear
E. Templeton, MA 01438-0408
mailing address:
PO Box 408
E. Templeton, MA 01438-0408