Our installation system insures a very durable structure that is completely rot resistant.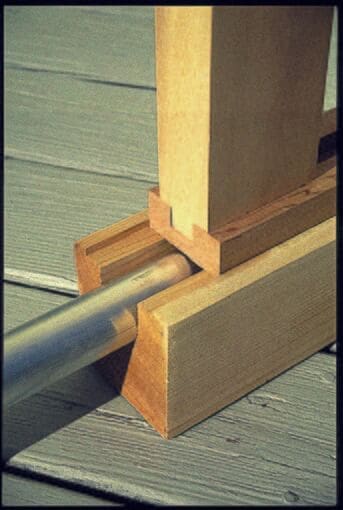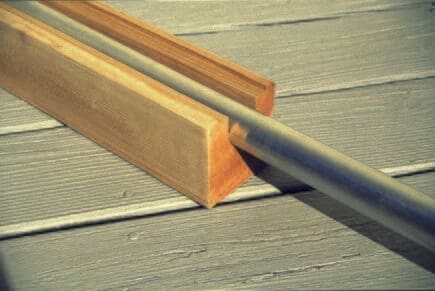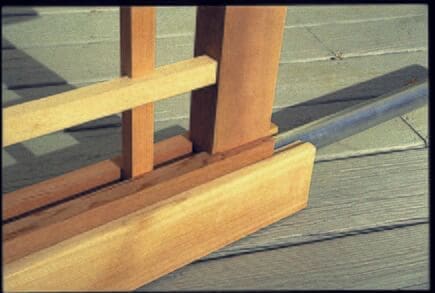 Each arbor comes with four 36″ very strong aluminum pipes that secure the arbor into a cement footing. The pipes are 1 3/8″ in diameter, with a thick 1/8″ wall. They fit perfectly into a channel within the 4 x 4 post of the arbor, which hides and secures the pipe. A stainless steel screw is placed through the pipe and into the 4 x 4 at the bottom of the post. The pipes extend into the post 28″.
Place four sono tubes (cardboard cylinders) in the ground to the frost line. Place the tubes left to right (walk-through) 53 12″ on center, and, front to back, 12″ to 1″ less than the total depth of the arbor (width of the arbor side). The lip of the tube will become the point upon which the arbor post will rest.

Level the tops of the tubes to each other, being careful to keep them the correct distance apart and square to each other. Place the arbor side, with the pipes attached, into the sono tube.
The side should now be level and should be brought into plumb. Repeat for the other side. Temporarily support the sides and place the top on. Now the sono tubes can be filled to the top with cement.

This outlines the proper installation for an arbor. Detailed installation instructions are provided with the product.

The Essex Arch, Cambridge Arch, Salem Arch and the Oak Park Arbor are all installed using cedar stakes, that are precut and drilled, and are placed in cement in a similar fashion to the metal pipes.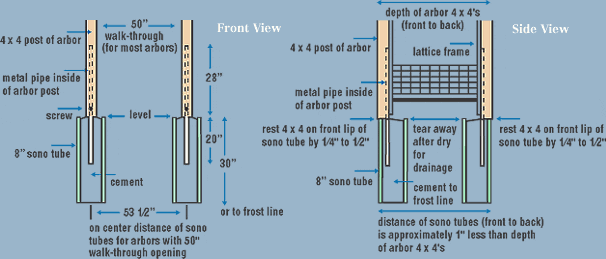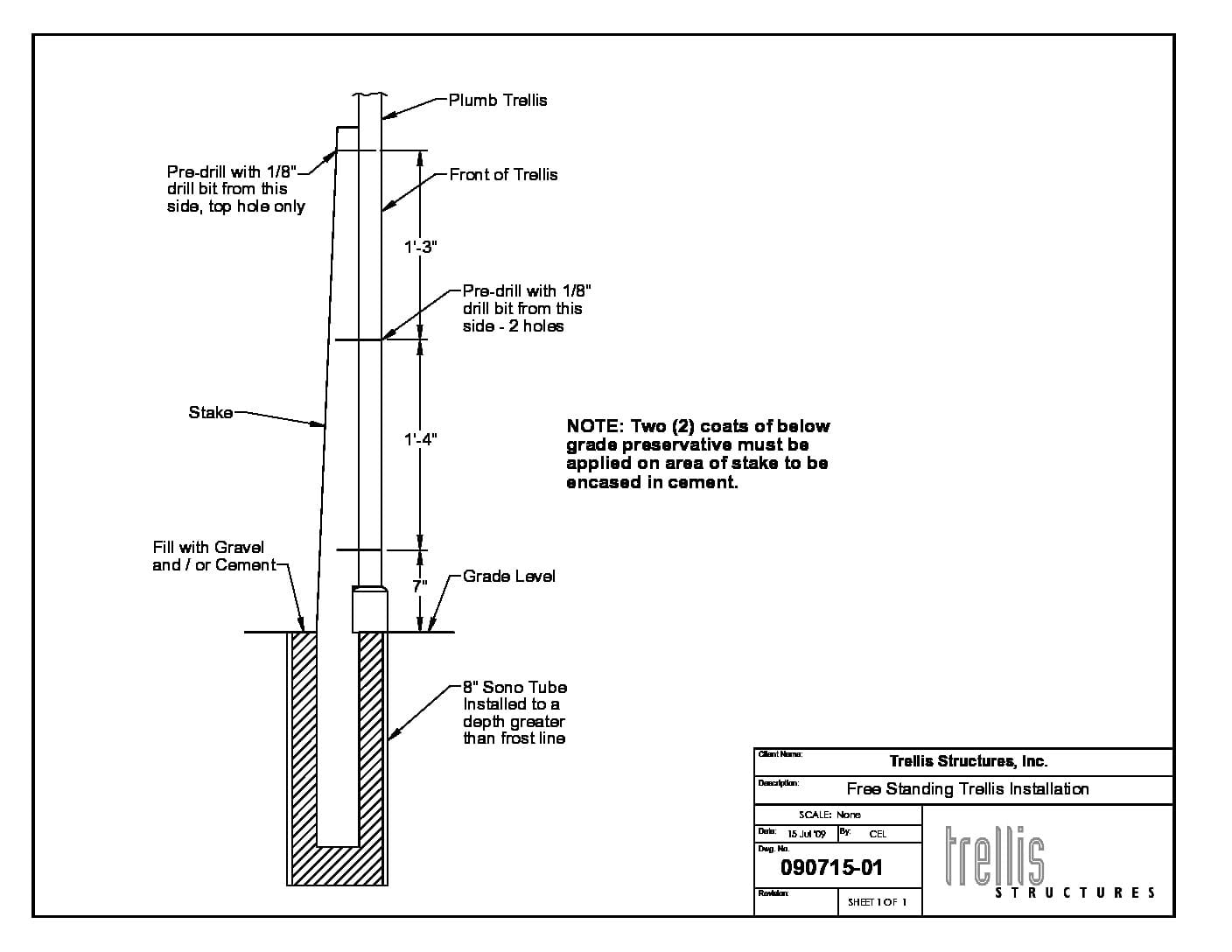 Securing the Trellises
The Garden Accent and Arbor Extensions are provided with two 60″ long cedar stakes. These stakes are placed into gravel or cement.
The stand-offs are fastened to the wall using the correct screws for the wall surface, provided by you. The trellis is then fastened to the stand-offs, using the 3″ stainless steel screws provided by us. The trellises should be predrilled to receive the screws.
The trellises that will be placed against a wall are supplied with "stand-offs". The stand-offs (blocks of cedar) allow the plant to grow behind the trellis.
Most of our wall trellises can be made to be freestanding and are secured to the ground using cedar stakes.
This outlines the proper installation for these units. Detailed installation instructions are provided with each product.
Our customer service department is open from 8:30 am to 5:00 pm, EST, Monday through Friday. If you leave a message after hours please leave a number where you can be reached and we will gladly return your call.
phone: 978.630.8787
email: [email protected]
We are located in E. Templeton, Massachusetts, off of Route 2, one exit west of Gardner, the furniture capital of New England.
main location:
25 North Main St. rear
E. Templeton, MA 01438-0408
mailing address:
PO Box 408
E. Templeton, MA 01438-0408